August 14th Ultimate Challenge update
Hi everybody its two weeks and I'm back with you once again with another update, Just to recap, last time we were able to announce that we now have in place a workable programme that will extend from August 2017 to July 2020, A THREE YEAR PROGRAMME OF EVENTS. We also announced that for safety and security reasons the start date of the Ultimate Challenge 2 has been rolled back to March 31st 2019, the reason for the changes I will go into later. Before I continue I would briefly like to go back in time so that you have some idea how we have ended up where we are today. For the benefit of those who have only recently joined our band of merry followers, at the beginning of 2011 I decided to drive around the world. What started as a two people one car adventure, ended up becoming a challenge for me and six other old guys mostly in there seventies driving two Suzuki Jimny's and starting our journey on the 31st March 2013 to drive around the world and arrive back at the UK 150 days later the guys unharmed and the vehicles undamaged. We achieve what we set out to do and I spent the following two years writing and publishing a 450 page book documenting the journey as well as working with Viewpoint productions Ltd to produce a film as a six part series for TV, both the book and the film as a DVD set are available from our website shop. Looking back at what we did then you can't help thinking it was one hell of an achievement.
Publishing the book and releasing the DVD set created a lot of interest resulting TV and Radio appearances and numerus articles being published in the dailies and magazines. When being interviewed by the media or when talking to people in general about what we did the inevitable question is always asked, what are you going to do next? So many people ask me the same question I couldn't help thinking about it, thinking about what I could do if my lovely wife Vi wasn't watching me like a hawk for any hint that I was up to no good! However that to one side I couldn't help pondering the question, what could we do that was so challenging and demanding and has not already been done? I eventually came up with, driving twice around the world from East to West and then North to South non stop. I am sure it has been done before in one form or another but probably not non-stop. The idea has been adopted by the team and is referred to as Ultimate Challenge 2 or as recently suggested by David, one of the team, UC 2 and witch is the main event of our three year programme. From here on I will refer to the team, frequently, although I have referred to it previously I will mention it again to make sure you know who everybody is and what we do, The team as I call it, are a few people who helped and worked with me to bring together the 2013 challenge and we have remained together ever since, There are four members of the team including myself, Les Project director, Alun, Suzuki, Guy, Newman's Suzuki Totten, David Viewpoint Productions Ltd. The team organises and manages the programme in conjunction with our registered charity "Heaven can wait I'm busy". Our team and our charity, represented by myself as trustee and chairman will at times come together to support other charities.
What have we done recently, back in march Alun at Suzuki organized the loan of a Vitara to enable us to make an assessment as to the suitability of the Vitara to take on a journey twice around the world? My wife Vi and I drove the Vitara to Lands' End, Cornwall and back to carry out a fuel check and get some idea what it would be like driving it long distances, the car did pretty well. A few days later we drove the Vitara to Thruxton racing circuit and put it through its paces on the skid pan and of road section, the car performed as expected and will perform even better with equipment upgrades.
Where are we to day, let's say I am more confident now than I was six months ago there has been lots of occasions when I have not been able to do anything other than wait for replies to my emails or the return of my phone calls, or not being able to deal with a particular issue because of waiting for related information. Thankfully most of that is behind us now and things are starting to come together. We Have a draft of a very exciting workable programme that meets the criteria we have been seeking, after some tidying up I am sure will be adopted, but it still maybe subject to change.
1 Alun at Suzuki has informed me that we won't receive the Vitaras allocated to us before November, he also tells me that the Vitara is selling so well the factory can't keep up with demand, so we are not at the top of the priority list. We can bring the delivery forward by becoming a customer, so if there's anybody out there who has just inherited a fortune and would like to join our merry band please contact me.
2 We won't receive our vehicles until November but we can probably borrow one from ether Suzuki or Guy if he has one available at his dealership to take measurements for equipment or to visit a specialist manufacturer for advice. Surprisingly there is quite a lot of work to be done sorting out what equipment we need for the journey we are proposing that can be fitted to the Vitara's without defacing the vehicles such as wheel rims and tyres, high lift shocks and springs etc.
3 Vehicle graphics is another area where we can work on the vehicles without the vehicles being available. About a year ago having some idea that if I were to take on another challenge it was likely that the vehicle we would use would be a Vitara. I contacted Guy and told him what I wanted to do and he loaned me a White Vitara for the day. I met up with Trevor and Loydd the bosses of New Forest Designs, (they did the graphics on the Jimnys last time) we met in the new forest for a photoshoot with the car, they got what they wanted and I returned the Vitara back to Guy. A few days later and after some consultation between Trevor and me he produced a stunning design. Because of the lack of activity at the time it was put to one side, so we already have one design for our car and a possible basis for our first competition.
VITARA GRAPHIC'S COMPETITION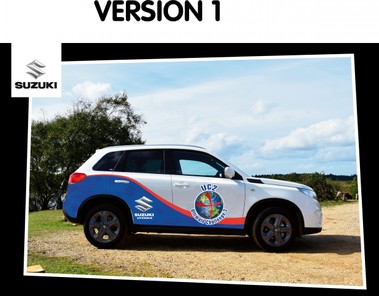 This could be our first competition, every two weeks or so for the next eight weeks, we will publish one of four Graphic designs overlaid on a Vitara, we would like you to have a look at each one that Trevor and Loydd have produced let us know which one you think is the best design and likely to have the most impact. Illustrated is the first image of 1 of 4 you can comment individually beforehand as well as at the end after all 4 have been published, each of the designs will be amended or adjusted as we go along. Send your comment to our website contact page, if what you have suggested warrants further discussion let us have your phone number and I will contact you. Let's see what the general response is before we decide to run it as a competition. If you want to become involved with us your comments on the above could be your first step
From here on I will be focusing on current activity and developments within the programme generally and some of the details relating to UC2 (Ultimate Challenge 2) and how it will come together. Till the next update at the end of the month, keep smiling. Les